Acquisition of projects and electricity generation plants
Kallista Energy Group ensures external growth by acquiring projects or electricity generation plants of all sizes. We provide all the expertise and skills required to realise the acquisitions (valuation of assets, due diligence, preparation of contracts, etc.).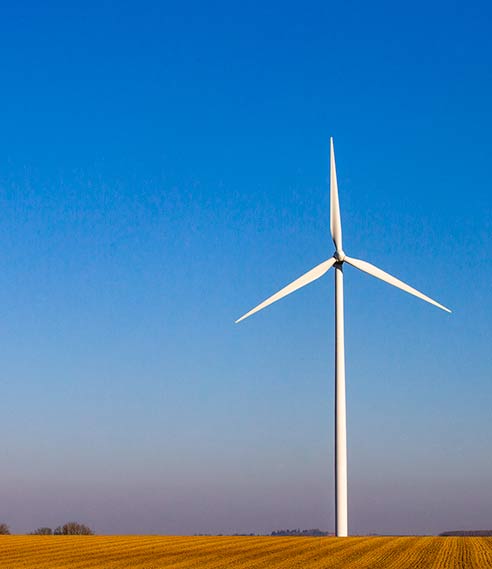 Our priorities: responsiveness and objectivity
Our team has already analysed more than 3,500 MW in France. This expertise, combined with the solidity of our shareholder base and its long-term vision, enables us to offer an objective market price and to conclude an acquisition and its financing within less than six months, from the first contact to the closing.
This objective outlook also allows us to play a supporting role in transactions on behalf of third parties.
External growth with a long-term view
Since 2009, Kallista Energy Group has seen sustained growth thanks to a number of key acquisitions. Kallista looks at all growth opportunities, whether they involve one single electricity generation plant or a portfolio of multiple facilities. We analyse all projects, whatever their size, maturity or geographical location (in France or in a number of European countries). We also look at portfolios undergoing development.
Our aim is to grow to a size that is large enough for us to become a major player on the market for energy sales, offering electricity that is among the most competitively priced. Our external growth enables us to achieve economies of scale that guarantee the viability of our portfolio after the end of feed-in tariff contracts.
Resources that can be rapidly and sustainably mobilised
One of the strengths of our group is its ability to realise acquisitions rapidly and efficiently. We can mobilise the necessary resources to carry out an acquisition within very short time frames.
In the case of wind farms, the return on investment is achieved within eight to ten years. To guarantee this return on investment, a long-term commitment is crucial, as well as a long-term vision.
Internal expertise recognized by the wind energy sector
Our internal team provides the technical, legal and financial expertise required to realise all stages of an acquisition with the support of specialists, usually long-term partners, who are called upon on a case-by-case basis and who are used to working with our teams, within our own structure:
valuation;
due diligence;
preparation of contracts;
monitoring of construction;
integration of the acquired assets within our operational scope.
We carry out a large part of the due diligence on our projects ourselves. In this way we reduce deadlines and costs, without compromising on thoroughness, thanks to optimised procedures and reliable expertise.
The process for acquisition of assets
Wind farm/project for sale
Receipt of a preliminary file
Valuation
Drafting of a non-binding offer (NBO)
Submission of NBO
Request for exclusivity with the vendor
Extensive due diligence
Negotiations with banks and suppliers
Conclusion of acquisition
Integration of new assets
Total duration of the process
6 months