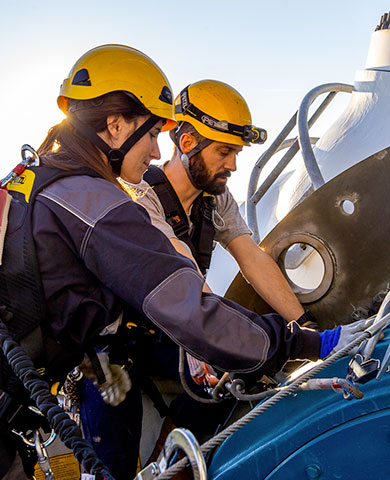 -40%
of CO2 per employee by 2022
Based on 1.68 tCO2eq/employee in 2017 on emissions linked to our travel (by car and air), the energy consumption of our offices (electricity and gas) and waste management and recycling in our offices
Our approach is in line with the recommendations of the Paris Agreement on Climate Change, which provides for a 40% reduction in CO2 emissions by signatory countries by 2030 to restrict the rise in temperatures to less than 2°C. Kallista Energy wants to contribute as much as it can to this global objective. Moreover, we are especially aware of the CO2 emissions generated by the life cycle of the wind turbines that we install and that relate to our Scope 3 activity: the manufacturing, installation, decommissioning, recycling and recovery of wind turbines. We integrate environmental criteria in our choice of suppliers and opt for those that share similar requirements to our own.
Our commitments to the environment
01. Electrify 80% of our vehicle fleet by 2022
02. Ban domestic flights and limit international flights
03. Avoid, reduce, and recycle waste from our offices
04. Improve the energy efficiency of our equipment
05. Encourage consideration of ESG criteria in activities within our scope 3
06. Develop the best projects with the help of independent experts
07. Guarantee an exemplary site for each of our projects
08. Ensure the environment is protected and noise disturbances are limited around our wind farms
09. Invest in the repowering of our ageing wind farms to optimise renewable electricity generation
10. Recover the blades of dismantled wind turbines and contribute to searching for solutions adapted to future volumes
2020 Carbon Footprint Of Kallista Energy
CO2 emissions
9,107 tonnes due to our wnid farms1
50,9 tonnes due to our "support" activity2
CO2 avoided
19,909 tonnes thanks to renewable energy production3
Two changes have been made in the methodology for estimating our 2019 carbon footprint compared to that of 2018 (more details in our 2019 CSR Report):
-Vehicle-related emissions now take into account the entire life cycle analysis of vehicles in order to integrate emissions related to construction and not just those related to fuel consumption. This new calculation method allows a more realistic assessment of electric vehicles.
-Due to our wind farm renewal plan, our calculations take into account a "depreciation" period of construction-related emissions shortened to 15 years as opposed to 20 years.
1 CO2 emissions linked to our wind farms: manufacturing, installation, operation and maintenance over for a 15-year span. Source: ADEME carbon database: 14.1 g of CO2eq per kWh (for a 20-year span), plus the 100% renewable electricity consumption of our facilities (operation of plant auxiliaries).
Even though not all CO2 emissions in this category fall within the direct scope of Kallista Energy (Scope 3), we endeavour to work with responsible suppliers who are also seeking to minimise their carbon footprint. ESG criteria are therefore systematically integrated in our contracts with our suppliers.
2 CO2 emissions linked to our support activity: emissions generated by our travel; the energy cost of our offices; waste management; etc. Source: ADEME carbon database, DGAC eco-calculator, Cèdre recycling assessment, automotive constructors (vehicle registration document).
3 CO2 saved as a result of the production of our wind farms in 2019. Source: ADEME carbon database. Difference between the average emission factor of the French energy mix in 2019 and the average emission factor of wind energy production in France.
Minimising the environmental impact of our projects and our daily activity
We call on independent firms that are known for their expertise to conduct environmental impact studies prior to the construction of a wind farm. Studies into fauna, flora, acoustics and landscaping are carried out in strict compliance with the standards in force to minimise the environmental impact of the wind farm as much as possible, from its construction to its decommissioning.
Consequently, Kallista Energy has committed to going beyond the regulatory requirements and completely removing all traces of the concrete foundations of the wind turbines, in order to return the land to farmers in its original state.
Moreover, we seek to limit the environmental impacts of our teams on a daily basis: electrification of our vehicle fleet; sorting and recovery of our office waste; replacement of appliances (lights, boilers, etc.) with more energy-efficient items.
Kallista Energy has also decided to completely ban all internal flights. SNCF season tickets and videoconferencing services are provided to our employees to allow them to travel quickly and comfortably anywhere in France, or to work remotely if they need to.